Summer in England is never predictable but 15 Cub Scouts had a great time in the worst weekend for a long time.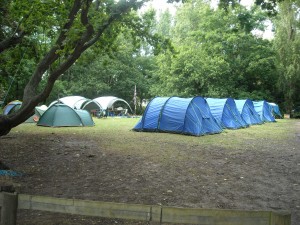 We have great time at Gilwell and even enjoyed (?) a long walk in the rain in Epping Forest – we were allegedly looking for the Lost Pond but never got that far. We were, however, very close to Dick Turnip's Cave (stand and deliver your vegetables anyone?) or maybe it was Dick Turpin's Cave?
We did lots of activities (aeroball, bouldering, pedal go-karts, canoeing, grass sledging and even Jacobs Ladder) and ate very well thanks to Catherine's excellent cooking.
A great time was had by all despite the weather (dodge-ball in a tent in the rain can be quite challenging).
Lets hope we all dry out in time for Mums and Cubs in a little over a months time.
For more details see here.